By Joshua Gross | ESPN.com
Mixed martial arts heavyweight icon Fedor Emelianenko retired Thursday after a first-round victory over Pedro Rizzo in St. Petersburg, Russia, according to reports.
 "I think it is time I quit," Emelianenko, 35, told state-owned Russian news agency RIA Novosti.
 Emelianenko cited influence from his family as the timing for his decision, and said even "fantastic offers" would not be enough to get him to fight again.
 "My daughters are growing without me; that's why it's time to leave," he said.
 Emelianenko exits MMA with a 34-4 (1 NC) record weaved together over a career that began in Bulgaria in 2000. "The Last Emperor" fought the bulk of his bouts in Japan, where he loomed as Pride heavyweight champion from 2003 until the company was sold and dismantled in '07.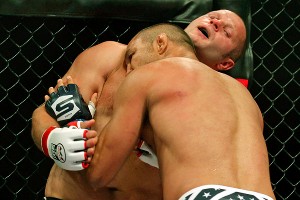 Fedor Emelianenko, of Russia, left, tries to push away Dan Henderson, right during their fight at Sears Centre, in Hoffman Estates, Ill., Saturday, July 30, 2011.
 Long considered among the sport's fighters, Emelianenko — squat, fast and powerful — ranked for years on pound-for-pound lists until he was submitted by Fabricio Werdum in 2010. Prior to tapping to the Werdum triangle choke, Emelianenko had not lost since December 2000. He holds victories over five UFC heavyweight champions, and is regarded by many media outlets as the best mixed martial artist of the past decade.
 After Pride folded, Emelianenko and his management, M-1 Global, failed to come to terms with Zuffa, which owns and operates the Ultimate Fighting Championship. Sharply criticized by UFC president Dana White and like-minded fans for not signing at the time, Emelianenko will go down as the best fighter never to have appeared in the Octagon.
 Emelianenko told ESPN.com earlier this week that he carried no regrets when it came to his career, in or out of competition.
He leaves the sport having won three in a row, countering a three-bout losing streak that began with the tap to Werdum. Antonio Silva became the first man to stop Emelianenko with strikes in 2011. Then Dan Henderson finished the former Russian army sambo specialist in one round.
 Thursday's quick knockout of the 38-year-old Rizzo, which was not broadcast in the U.S., came in front of a a sold-out crowd that included Russian president Vladimir Putin at ringside.